Welcome To Chilton County News in Clanton, Alabama, located in the center of the State of Alabama in the Heart Of Dixie.
This web site contains local Peach Country information, news and happenings about the people of
Clanton, Jemison, Thorsby, Maplesville, Isabella, Verbena and Cooper in Chilton County, Alabama.
"Chilton County's Best-Read Weekly Community Newspaper"
RECENT NEWS FROM AROUND CHILTON COUNTY!
FOOTBALL NEXT WEEK!
Thursday night, October 24

Isabella at Fultondale
Friday night, October 25

CCHS at Demopolis
Verbena at Loachapoka
Central at Thorsby
Jemison at Shelby County
Francis Marion at Maplesville
FOOTBALL SCORES!
Friday night, October 18
CCHS 38 - - Marbury 21
Lanett 40 - - Verbena 0

Demopolis 43 - - Jemison 0
Isabella 60 - - Ellwood Christian 6
United Way Donations
On October 16, the Chilton County United Way presented the 2019 Yearly Grants to representatives of various agencies. Grants were given to the Girl Scouts, Boy Scouts, Department of Human Resources for school supplies and foster children Christmas gifts, CareNet, P.E.E.C.H., Operations Santa Claus, 4-H, Chilton/Clanton Library, Turning Point, Child Nutrition Program, and His Steps For Women.
The Grants were presented at Jemison High School in the Culinary Department with the culinary students cooking and serving a nice lunch to the guests. The students and Raynette Ellison, Culinary Instructor, were given an acknowledgement for their participation in making this event extra special.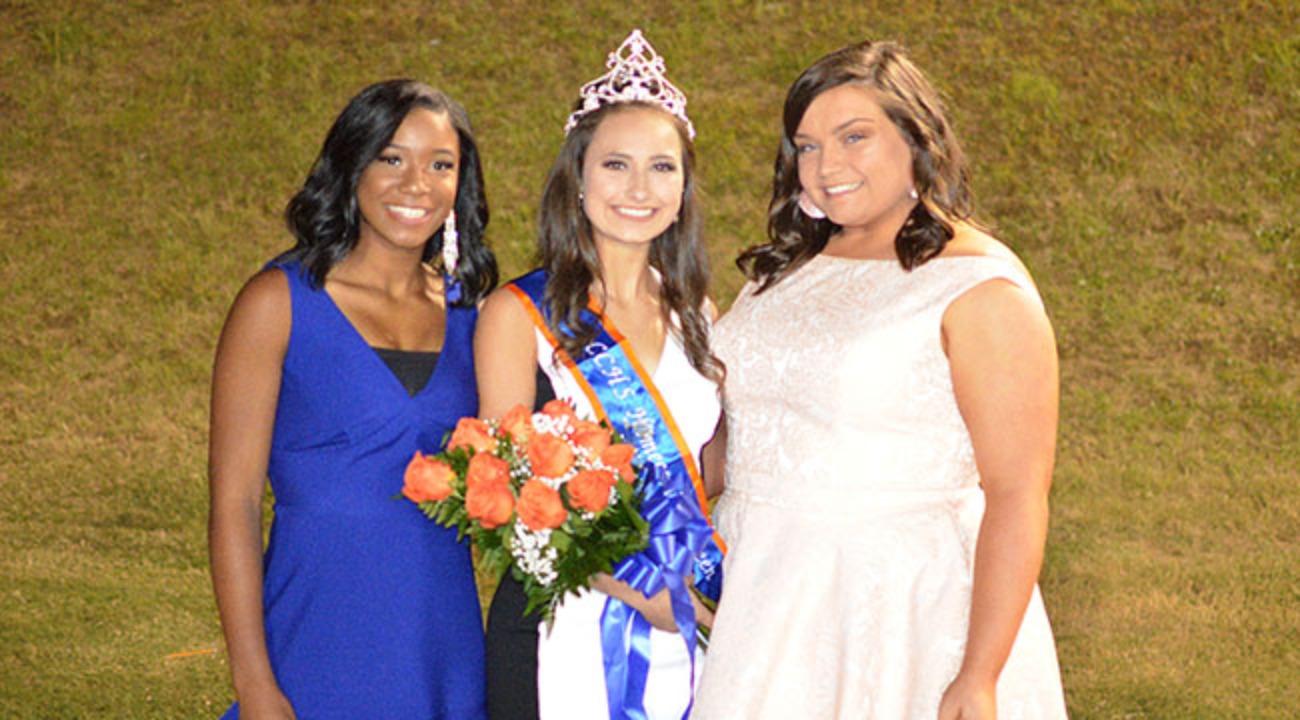 CCHS Homecoming Seniors
Homecoming was celebrated at Chilton County High School on Friday night, October 18, with the crowning of the King, Queen and Class Representatives.
Pictured, left to right, are the senior class candidates, Jada Neal, Sara Kate Emmerich and Alyssa Stilwell. Emmerich was crowned Homecoming Queen. Shi Keem Laister was named Homecoming King.
Saniya Underwood was named Junior Homecoming Representative. Reign Aldridge was named Sophomore Homecoming Representative. Morgan Cullum was named Freshman Homecoming Representative.
The CCHS Tigers defeated the Marbury Bulldogs 38-21 for the Homecoming Victory.
Isabella Homecoming Court
Isabella High School held its Homecoming on Friday night, October 18. Maggie Noah, center, was crowned Homecoming Queen during halftime festivities. Katelyn Smitherman, left, was named Second Alternate. Makenzie Ratliff, right, was named First Alternate.
Kaylee Cummings was named Junior Princess and her court included Lacey Batson and Yamilet Rosas. Arely Aguilera was named Sophomore Princess and her court included Reese Brasher and Brookann Miller. De'Asia Wilson was named Freshman Princess and her court included Mikenzie Williams and Chloe Johnson. Addyson Williams was named Eighth Grade Princess and her court included Amelia Fjeldstad and Bella Biancalana. Maylee Campbell was named Seventh Grade Princess and her court included Mallory Leonard and Emma-Claire McGrady.
PHOTO PROVIDED BY JILLIAN H. GREEN PHOTOGRAPHY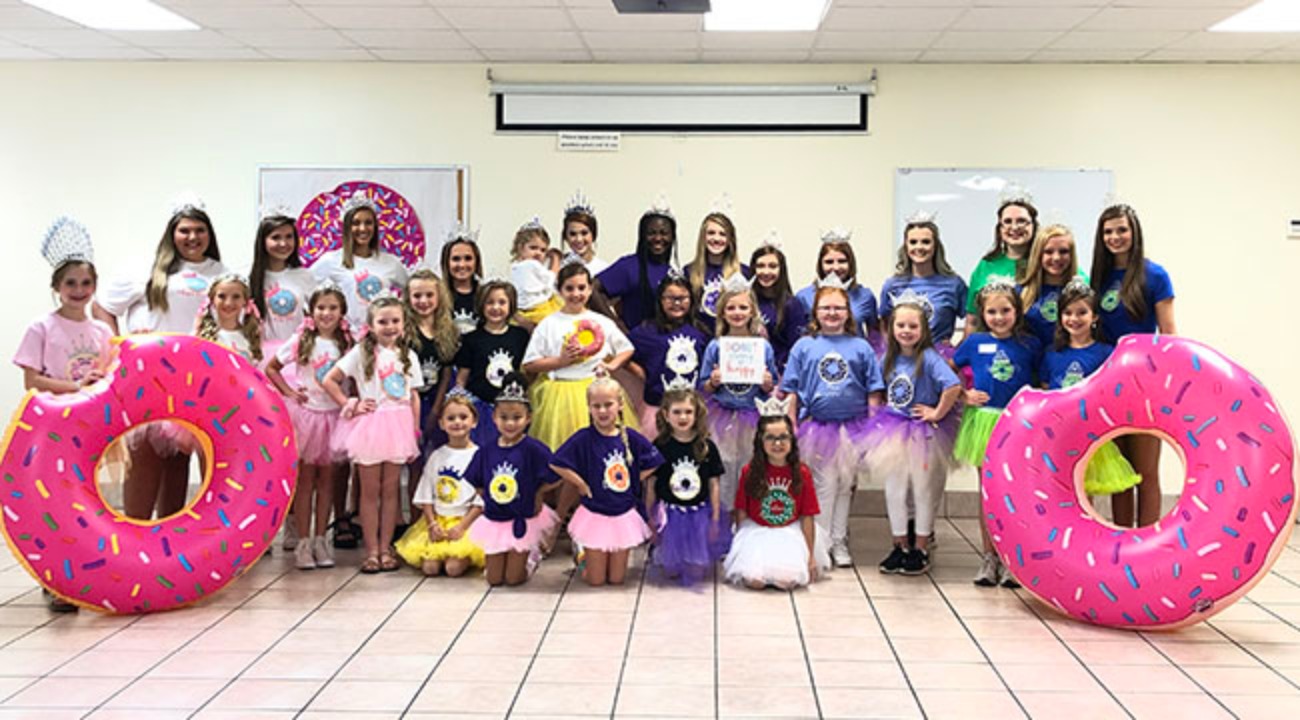 Painting With The Queens
Doughnuts and Painting with the Queens was held at West End Baptist Church on Saturday, October 19. The event was hosted by various queens from Chilton County and surrounding areas.
Money was raised that will be used to purchase Christmas gifts for some needy families in the county.
Refreshments of doughnuts and drinks were served. Each participant painted an 8x10 doughnut to carry home with them. Julie Neussl Harrison was the art instructor. A photo booth was available for pictures.
Lake Mitchell Cleanup October 26
A Lake Mitchell Cleanup will be held Saturday, October 26. Meet at Higgins Ferry Launch by 8:00 a.m. and return by Noon. Hot dogs and lunch will be served.
Poetry Workshop November 2
The Central Alabama Performing Arts Guild will host a Poetry Slam Workshop on Saturday, November 2, from 1:00 until 2:00 p.m. at the Chilton/Clanton Public Library meeting room. This event is open to the public at no charge. Mike Schiermann, professional voice talent and CAPA Guild member will concentrate on aspects of effective presentation and performance readiness. This event is open to all ages. To learn more, call Mary at 205-907-0008 or email capaguild@gmail.com.
Food Drive For Chilton County
The 34th Annual Food Drive to benefit the Chilton County Emergency Assistance Center began on October 15 and continues through November 30. Donations received will help families who have experienced an emergency and need help putting a meal on their table.
Between 8:30 a.m. and 2:30 p.m., Monday through Friday, Chilton Countians can help by donating non-perishable food items, make a monetary donation, or organize a food drive at your workplace, school or church. Donations may be dropped off at the Chilton County Emergency Assistance Center, 502 Enterprise Road, Clanton.
Monetary donations can be sent to CCEAC, P.O. Box 1305, Clanton, AL 35046. Contact Donny Finlayson at 205-755-7062 with questions or to arrange a pick-up at your location.
Maplesville Beauty Pageant
The 2019 Maplesville Old Fashion Christmas Beauty Pageant will be held on Thursday, November 7, at 6:00 p.m. in the Maplesville High School Auditorium. Winners must attend the Maplesville Old Fashion Christmas Festival on December 1.
Entry fee is $35.00 for the pageant and $10.00 for photogenic. Deadline to enter is Monday, October 28. Age groups will be babies through 18 years-of-age. There will be a Queen and three alternates in each division and they will be awarded a crown, sash and flowers.
For entry forms and additional information, contact Kim Langston at 334-419-3136 or Sharon Roper at 334-410-0782.
Christmas Bazaar November 2
Lime Springs United Methodist Church will host its annual Christmas Bazaar on Saturday, November 2, from 7:00 a.m. until 3:00 p.m. Breakfast of sausage and biscuit, juice and coffee, along with lunch of soup and all the fixings, will be available.
Sale items will include homemade crafts, woodcraft items, Christmas decorations, cakes and candies. You are invited to attend for a day of fun, food and fellowship.
Directions to the church are: take Highway 145 and turn right onto County Road 55 toward Lay Lake. Go approximately three miles and turn left onto County Road 61. Go one mile and the church is located on County Road 184.
Scholarship To Be Awarded
The Chilton County Retired Educators Association will be awarding a scholarship to a college senior who will be graduating by June 2020 in the field of education. The recipient must be a graduate of a high school in Chilton County.
Please submit your resume along with a short essay stating your reasons for choosing the field of education. Please mail your resume and essay by October 31, 2019, to Lucinda Champion-Little, 115 Summit Street, Thorsby AL 35171.
ISABELLA HOMECOMING COURT!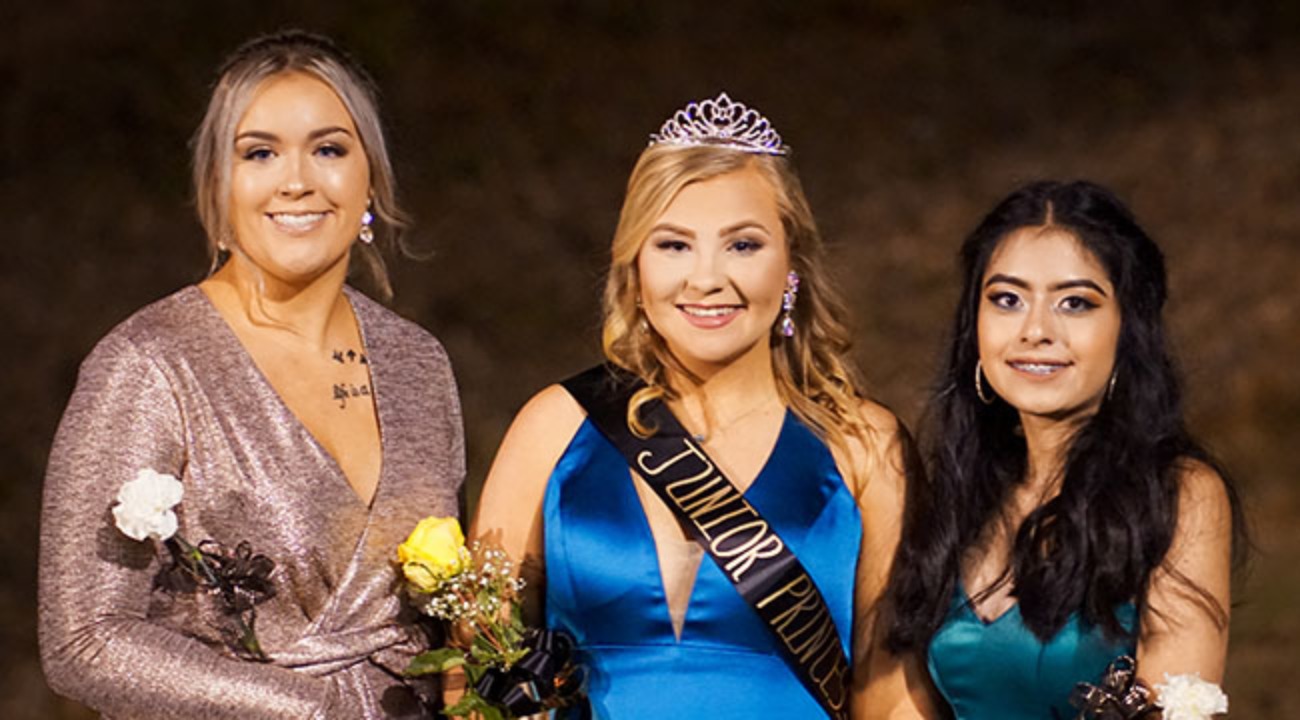 Junior Class
Junior Princess and Court
Left to right: Lacey Batson, Kaylee Cummings, Princess; and Yamilet Rosas.
PHOTO PROVIDED BY JILLIAN H. GREEN PHOTOGRAPHY

Sophomore Class
Sophomore Princess and Court
Left to right: Reese Brasher, Arely Aguilera, Princess; and Brookann Miller.
PHOTO PROVIDED BY JILLIAN H. GREEN PHOTOGRAPHY

Freshman Class
Freshman Princess and Court
Left to right: Mikenzie Williams, De'Asia Wilson, Princess; and Chloe Johnson.
PHOTO PROVIDED BY JILLIAN H. GREEN PHOTOGRAPHY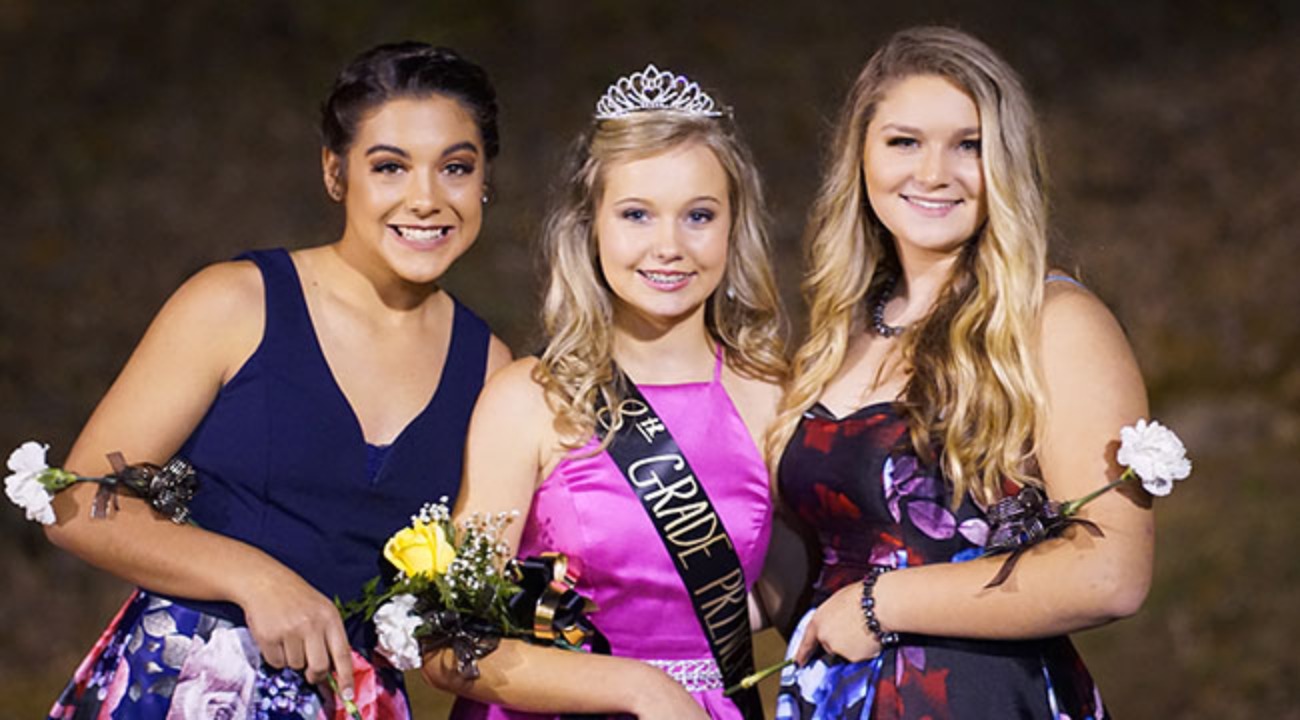 Eighth Grade
8th Grade Princess and Court
Left to right: Amelia Fjeldstad, Addyson Williams, Princess; and Bella Biancalana.
PHOTO PROVIDED BY JILLIAN H. GREEN PHOTOGRAPHY

Seventh Grade
7th Grade Princess and Court
Left to right: Mallory Leonard, Maylee Campbell, Princess; and Emma-Claire McGrady.
PHOTO PROVIDED BY JILLIAN H. GREEN PHOTOGRAPHY

Chilton County High School hosted an Alumni Band performance on Friday, September 27. Former band members marched into the stadium and performed during the pregame show. Former Band Director, Jim Swindle, was in attendance and the Band Practice Tower was named in his honor.
THORSBY SWEDISH FESTIVAL PARADE and
JIM SWINDLE BAND TOWER AT CCHS!
Special Election Is November 5
By Becky Tucker, News Reporter
There will be a Special General Election in Chilton County on Tuesday, November 5. Polls will be open from 7:00 a.m. until 7:00 p.m. Two candidates, Van Smith, Republican, and Kenneth R. Allison, Sr., Democrat, are running for a seat in District 42, House of Representatives.
There is a change if you plan on voting an absentee ballot. Voters must submit a copy of their photo ID with the application. Absentee ballots are available at the Chilton County Circuit Clerk's/Absentee Election Manager's Office located in Room 304 in the courthouse. Office hours are from 9:00 a.m. until 12:00 noon and 1:00 until 4:30 p.m. Call 205-755-4275 for more information.
Any qualified elector may vote by mail or in person at the Absentee Election Manager's office if he or she makes application in writing not less than five days prior to the election and meets certain requirements listed: The person expects to be out-of-county or state on Election Day; The person has any physical illness or infirmity which prevents his or her attendance at the polls; The person expects to work a shift which has at least ten hours which coincide with the polling hours at his/her regular polling place; The person is enrolled as a student at an educational institution located outside the county of his or her personal residence which prevents his/her attendance at the polls; and The person is a member of, or spouse or dependent, of a members of the Armed Forces.
The deadline to apply for an absentee ballot is the close of business on Thursday, October 31.
Applications are also available on the Secretary of State's web page www.sos.alabama.gov.
September 25, 2019

100 Block Arthur Drive-Motor Vehicle Accident
900 Block 3rd Avenue South-Seizure
2000 Block Lay Dam Road-Fire Alarm
1400 Block 7th Street South-Traumatic Injury
2800 Block 7th Street North-Public Assist
300 Block City Street-Chest Pain
September 26, 2019
100 Block Arthur Drive-Public Assist
3000 Block 7th Street North-Public Assist
2300 Block 4th Avenue North-Seizure
3000 Block 7th Street North-Syncope
600 Block Ollie Avenue-Difficulty Breathing
1100 Block Duren Road-Bleeding Non Traumatic
100 Block Taylor Street-Altered Mental Status
100 Block Thompson Avenue-Unresponsive
500 Block Brookwood Drive-Bleeding Non Traumatic
September 27, 2019
3000 Block 7th Street North-General Illness
Yellowleaf Road and Friendship Road-Motor Vehicle Accident
100 Block Thompson Avenue-Abdominal Pain
2100 Block 7th Street North-Burn Injury
700 Block 8th Street North-General Illness
3000 Block 7th Street North-Altered Mental Status
3700 Block 7th Street North-Unresponsive
1200 Block 7th Street South-Seizure
4th Avenue North and 14th Street North-Motor Vehicle Accident
200 Block Ruth Street-Chest Pain
September 28, 2019
300 Block City Street-Altered Mental Status
Ollie Avenue at soccer field-Heat Incident
1100 Block Samaria Road-Assault
September 29, 2019
1500 Block 15th Place-Abdominal Pain
1500 Block Taylor Avenue-Altered Mental Status
1700 Block 7th Street South-Altered Mental Status
700 Block 8th Street North-General Illness
1600 Block Mt. Pleasant Road-General Illness
September 30, 2019
700 Block Cobblestone Circle-Allergic Reaction
400 Block 14th Street South-General Illness
100 Block Thompson Avenue-Seizure
100 Block Medical Center Drive-Extremity Injury
700 Block 2nd Avenue North-Motor Vehicle Accident
I65 212 Exit-Grass Fire
300 Block Park Plaza-Abdominal Pain
2800 Block 7th Street North-Fall
4th Avenue North and 8th Street North-Motor Vehicle Accident
1300 Block 4th Avenue North-Assist Police
October 1, 2019
3000 Block 7th Street North-Public Assist
2100 Block 7th Street South-Altered Mental Status
3000 Block 7th Street North-General Illness
October 2, 2019
200 Block Pinedale Road-Difficulty Breathing
100 Block 11th Street South-General Illness
1100 Block Pinedale Road-Public Assist
Town Mart Shopping Center-Public Assist
1300 Block 8th Street North-General Illness
1600 Block Samaria Road-Seizure
2500 Block 7th Street South-Chest Pain
October 3, 2019
2000 Block Big M Boulevard-Assault
2000 Block Lay Dam Road-Fire Alarm
2500 Block 7th Street South-Syncope
200 Block County Road 792-Structure Fire
Highway 145 and County Road 51-Motor Vehicle Accident
1600 Block Trilliam Lane-Kitchen Fire
October 4, 2019
2300 Block 7th Street South-Motor Vehicle Accident
600 Block Ollie Avenue-Difficulty Breathing
200 Block County Road 792-Structure Fire
I65 204 Mile Marker South Bound-Motor Vehicle Accident
600 Block County Road 448-Grass Fire
I65 208 Mile Marker South Bound-Motor Vehicle Accident
Thrash Road and Temple Road-Motor Vehicle Accident
2000 Block Big M Boulevard-General Illness
2000 Block Yellowleaf Road-Assault
100 Block Dogwood Court-Smoke Investigation
300 Block City Street Seizure
October 5, 2019
3300 Block Lay Dam Road-Assist Police
1600 Block 7th Street South-Syncope
October 6, 2019
100 Block Elwyn Avenue-General Illness
900 Block 3rd Avenue South-Chest Pain
300 Block Ollie Avenue-Unresponsive
900 Block 3rd Avenue South-Syncope
80 Block Spring Lake Boulevard-Fire Alarm
October 7, 2019
1100 Block Temple Road-Difficulty Breathing
Enterprise Road and Lacy Street-Seizure
1900 Block 7th Street North-Unresponsive
2000 Block Lay Dam Road-Fire Alarm
1300 Block 4th Avenue South-Chest Pain
1900 Block 7th Street North-Public Assist
1600 Block Samaria Road-Seizure
October 8, 2019
2300 Block 7th Street South-General Illness
1400 Block 7th Street South-Stroke
4000 Block 4th Avenue North-Unresponsive
300 Block City Street-Chest Pain
400 Block 2nd Avenue North-Fall
I65 and 7th Street South-Pedestrian Struck by Vehicle
2000 Block 7th Street South-Helicopter Landing Zone
1800 Block 9th Street North-Public Assist
2300 Block 4th Avenue North-Fall
200 Block Willis Circle-Diabetic Emergency