Welcome To Chilton County News in Clanton, Alabama, located in the center of the State of Alabama in the Heart Of Dixie.
This web site contains local Peach Country information, news and happenings about the people of
Clanton, Jemison, Thorsby, Maplesville, Isabella, Verbena and Cooper in Chilton County, Alabama.
"Chilton County's Best-Read Weekly Community Newspaper"
RECENT NEWS FROM AROUND CHILTON COUNTY!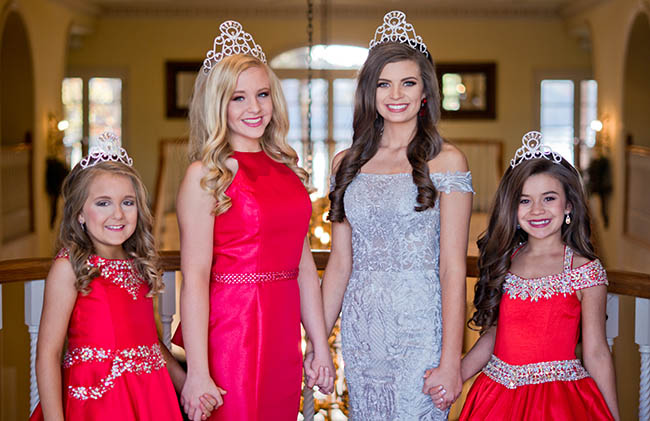 Register For Miss Chilton County
Registration for the Miss Chilton County 2020 Pageant will be Sunday, January 26, at the Clanton Masonic Lodge, located at the corner of Fourth Avenue and Eighth Street at the overhead bridge. Registration will be from 2:00 until 4:00 p.m. Each contestant will need to bring their completed application, four wallet-size pictures of the same pose, a copy of their birth certificate and the $75.00 registration fee.
Applications for the Pageant are available at all schools in the county, Brenda's Formal Wear and C&C Trophy in Clanton. Age groups are: Little Miss, five to seven years; Young Miss, eight to eleven years; Junior Miss, twelve to fifteen years; and Miss Chilton County, sixteen to nineteen years.
PLAY BALL!
The Thorsby Park and Recreation will have baseball and softball registration on the following Saturday mornings: 1/18, 1/25, 2/1, and 2/8 from 9:30-11:30 a.m. Registration will also be held on the following Thursday evenings: 1/23 and 2/6 6:30-8:00 p.m. The cost will be $150.00 with multi-child discounts applicable. In the past they have accepted cash or check only, but this year they plan on being able to accept cards as well. They are discussing changing the baseball sanction, so please hold-off on purchasing a baseball bat until practice begins.
++++++++
Maplesville baseball and softball registration will be held beginning Saturday, January 18, from 9:00 until noon; Saturday, February 1, from 9:00 until noon; and Saturday, February 15, from 9:00 until noon. Sizing day will also be Saturday, February 15, from 9:00 until noon. There will be a $125.00 fee. Registration will be held at Maplesville Community Park.
++++++++

Registration for spring baseball is now through February 10. You may register at Cornerstone Fitness in Clanton at any time during their normal business hours. On-site registration will be held Saturday, February 8, from 9:00 a.m. until noon. The cost is $125.00 per player, plus $100.00 for each additional sibling, due at time of registration.
++++++++

Clanton Girls Softball registration will begin Saturday, January 18, at Cornerstone Fitness in Clanton. Registration fee is $100.00 through February 4th. Evaluations will be February 8. Ages are 4 through 12 years.
BASKETBALL!
1/17 Chilton County High School at Marbury High School

1/17 Holtville High School at Verbena High School
Camp Stew For Sale
The Isabella High School Track and Field Team will have a Camp Stew Fundraiser. The price is $10.00 per quart. Pick-up will be February 8 at 1:00 p.m. in the school lunchroom. The athletes are selling tickets or you can call 334-259-4264 to purchase a ticket.
Proceeds will help the Isabella High School Track and Field Team with expenses in the upcoming season.
Birthday Party January 28
The Chilton/Clanton Public Library will celebrate Dr. Martin Luther King's birthday on Tuesday, January 28, beginning at 3:30 p.m. and the event is open to the public. Each Tuesday beginning at 10:00 a.m. the Library hosts Story Hour for ages three, four and five years.
After School Crafts are held each Tuesday of the month at 3:30 p.m. The second Tuesday of each month, there will be an After-School Movie beginning at 3:30 p.m. Each Thursday, a Lego Party is held from 2:00 until 4:00 p.m. and Family Board Games are held from 4:00 until 5:30 p.m.
Grab-N-Go Craft Bags are available at the Circulation Desk anytime for Tweens and Teens. Pre-school age children may register at any time for the "1,000 Books Before Kindergarten" program.
Call 205-755-1768 for more information on any of these events or visit www.chiltonclantonlibrary.org.
Meet The Candidate!
Jeff Mims, a candidate for Mayor of Clanton, held a cookout on Wednesday, January 15 to kick-off his campaign. He welcomed people as they arrived to the event. Left to right: Candidate Mims, Susie Williams and Jim Moore.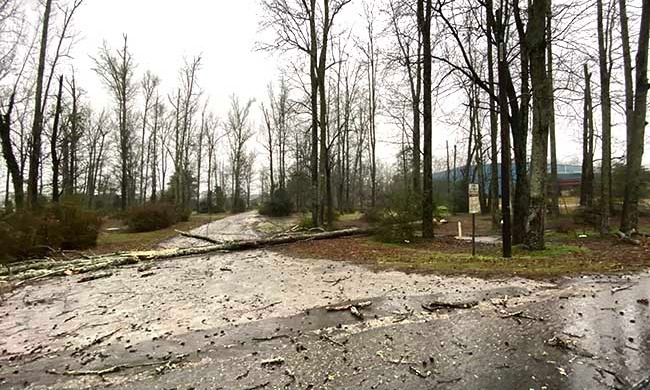 Storm Damage In County!
Strong thunderstorms moved into Chilton County around 1:00 p.m. Saturday, January 11. Numerous trees and power lines were reported down around the county. U. S. Highway 31, north of Jemison, was blocked by trees in the road. There were reports of minor damage at Thorsby High School where a section of the roof, of a walkway, was missing. A building in Thorsby was being torn down and high winds brought most of it down.
One person was reported injured when they fell in a storm shelter.
Story Hour At Jemison
The Jemison Public Library is hosting Story Hour each Wednesday at the Jemison City Hall from 10:00 until 11:00 a.m. The public is invited to attend.
The Library will host, at the new location in Old Town Jemison, a Beginner Crochet Class on Thursday, January 23, from 1:00 until 2:00 p.m. The class will be taught by Diane Harris and you need to bring your own supplies.
On Tuesday, January 28, from 6:00 until 8:00 p.m., Mack Gothard will be the instructor about drinking gourds. He will have supplies needed for the class.
All classes are limited on seating. Call the Library at 205-576-6760 for more information. If you are interested in becoming an instructor or have an idea for a class, please call Cheryle English or Tammie McGriff at the number above.
A Big Problem!
The recycling program in Chilton County is managed by the Bibb County Correctional Center and is currently unable to come to Chilton County to empty the bins in Clanton, Thorsby, Jemison and Maplesville. The truck that changes out the recycle bins was involved in a traffic accident and they are unable to empty the bins. As a result, the pile of cardboard, plastic and other items continues to grow at the recycle site on Furniture Avenue in Clanton.
Dale Collins, Superintendent of the the City of Clanton Sanitation Department is asking everyone to stop carrying items to the recycle bins. The Sanitation Department is having to pick-up, and clean up around the bins.
"We are going to clean up everything and put in our garbage truck," said Collins, "We will then haul it to the garbage transfer station in Thorsby. The recycle sites will be closed for the time being until those in charge get a new truck. At that time, an announcement will be made and citizens may once again recycle their cardboard, plastic and other items."
Undefeated Tigers!
The Clanton Middle School Girls Basketball Team was undefeated in their 2019 season which was October 29 through December 10. They won a total of twelve games.
Avery Williams is the Team Manager. Team members are: Iasia Anderson, Tyeshia Williams, Paris Dickerson, Sarah Beth Argent, Chloe Street, Ella Price, Emily Ledford, Tamya Bulger, Campbell Easterling and Ceunna Reed.
Coached by Emilly Sneed, the CMS girls team played middle school teams in Wetumpka, Jemison, Montevallo, Columbiana, Trinity Presbyterian, Marbury and Prattville Junior High.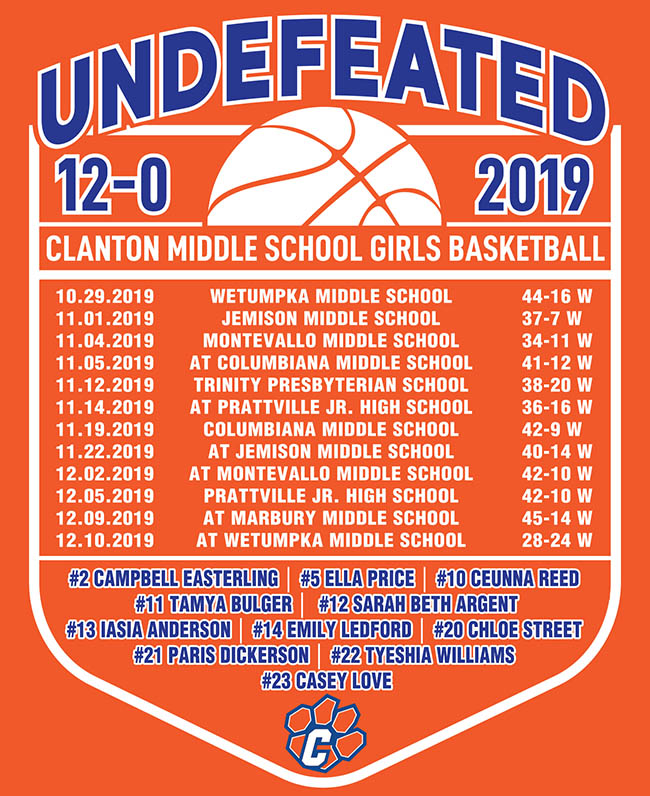 Flutter 2020 Is February 6
Flutter 2020, benefitting Butterfly Bridge Children's Advocacy Center will be held Thursday, February 6. The event will be held at The Back Fort, 611 County Road 448, Clanton from 5:30 until 7:30 p.m. All proceeds benefit victims of child abuse in Chilton County.
You are invited to enjoy food, drink and give to a great cause. There will be a live and silent auction. To be a sponsor, make a donation or to purchase tickets, visit the website, https://flutter.swell.gives. This is Butterfly Bridge's largest fundraiser of the year.
Historical Society Meets
The Chilton County Historical Society will meet Sunday, January 19, at 2:00 p.m. at the Senior Connection Facility, Park Plaza, Clanton. There will be a speaker on local history and the public is invited.
Fairy Tales Show At Jemison

The Eighth Annual Fairy Tales Show, hosted by the Jemison Library, will be Friday February 7, from 6:00 until 8:00 p.m. at the Jemison Municipal Complex. There will be booths with people depicting book characters set-up with fun and games with lots of goodies. You are invited to come dressed as your favorite Fairy Tale character. All proceeds benefit the Jemison Public Library. Admission is $2.00 for adults and $1.00 for school-aged children.
Chili Cook-Off February 8 In Jemison
Everyone is invited to join the fun and be a part of Jemison High School's annual Chili Cook-Off on Saturday, February 8, at the Jemison Municipal Complex from 5:00 until 7:00 p.m. All proceeds from this event will fund scholarships for FFA students at JHS.
Chili entries must arrive no later than 4:30 p.m. The entry fee to enter is $20.00. There will be first, second, and third place winners in both adult and student categories. Admission to the event is $10.00 for adult and $5.00 for students. Everyone is invited to attend and enjoy an evening of fun, fellowship and all-you-can-eat chili.
Pre-registration is not required as you may sign-up at the door. There will also be a Silent Auction and the community is encouraged to donate items. To donate an item for the Silent Auction or for more information, you may email tchildress@gmail.com.
Health Fair February 1
Senior Connection in Clanton will host a Chili Cook-Off and Health Fair on Saturday, February 1, from 11:00 a.m. until 1:00 p.m. The entry fee for anyone interested in entering the Cook-off is $25.00.
Booth space for the Health Fair is $25.00. Call Senior Connection to enter or have a booth at 205-755-8227 or email chiltonseniorconnection@gmail.com.
Celebrate Recovery On Monday
At Clanton Methodist
Celebrate Recovery is a Christ-centered, 12 step recovery program for anyone struggling with hurt, habit or a hang-up of any kind.
The program is held every Monday night at Clanton First United Methodist Church with a large group meeting at 6:30 pm and men and women's small groups meeting at 7:30 pm.
Dinner is provided from 5:30 until 6:15 pm. The church offers Celebration Place for children 5 through 12 and childcare for children 3 to 4 years old.
Everyone is invited to attend!
Celebrate Recovery is a safe place to find community and freedom from the issues that are controlling your life.
Scale Back Alabama Kicks Off Challenge
Senior Connection, located in the Park Plaza Shopping Center in Clanton, will be serving as a weigh-in site for the state's largest weight-loss and exercise program, "Scale Back Alabama." In its 14th year, the program has resulted in millions of pounds lost and healthy eating habits formed. The 2020 challenge starts next week.
Adults in teams of two can go to Senior Connection to register and weigh-in Tuesday, January 21 through Friday, January 24 from 8:30 a.m. until 3:30 p.m. You may also register online at www.scalebackalabama.com. All participants must be 18 years of age or older, live or work in Alabama, and must weigh-in at an official site to be eligible to participate. Those who lose at least ten pounds will be included in the cash prize drawings on April 21. You do not have to be a member of Senior Connection to participate in this program.
"At Senior Connection, we know the importance of good health and also realize that our community could use some healthy tips and encouragement," said Vanessa McKinney, Director. "Starting a diet and exercise program is never fun by yourself; Scale Back Alabama offers a great way to team up with another individual and get healthy."
For information at Senior Connection, call Martha Thornburgh, Senior Connection Site Co-ordinator at 205-470-5030 or Vanessa McKinney, Director, at 205-755-8227.
December 11, 2019

I65 212 Mile Marker North Bound-Motor Vehicle Accident
2000 Block County Road 18 West-Structure Fire
4000 Block 4th Avenue North-Difficulty Breathing
300 Block 8th Street North-Power Pole Fire
December 12, 2019
2100 Block 7th Street North-Smoke Investigation
3400 Block 7th Street North-Fall
300 Block Airport Road-Difficulty Breathing
300 Block Arby Drive-Public Assist
1600 Block 2nd Avenue North-Difficulty Breathing
1400 Block 7th Street South-Seizure
100 Block 3rd Avenue South-Altered Mental Status
December 13, 2019
200 Block Meadowview Circle-Unresponsive
800 Block 17th Avenue North-Smoke Investigation
500 Block 7th Street South-Abdominal Pain
900 Block Frances Circle-Difficulty Breathing
800 Block Caver Drive-Child Birth
500 Block Littlejohn Road-Smoke Investigation
100 Block 3rd Avenue South-Seizure
December 14, 2019
500 Block 7th Street South-General Illness
2000 Block Marsha Avenue-Smoke Investigation
300 Block City Street-Assist Police
400 Block 2nd Street South-Brush Fire
December 15, 2019
900 Block Lake Mitchell Road-Motor Vehicle Accident
2500 Block 7th Street South-Chest Pain
I65 210 Mile Marker North Bound-Vehicle Fire
300 Block Liberty Street-Syncope
800 Block Temple Road-Chest Pain
1000 Block Bud Littlejohn Road-Stroke
800 Block Scott Drive-Diabetic Emergency
40 Block Maplewood Drive-Extremity Injury
December 16, 2019
I65 211 Mile Marker South Bound-Vehicle Fire
I65 212 Exit-Motor Vehicle Accident
I65 212 Mile Marker South Bound-Motor Vehicle Accident
1100 Block 7th Street North-Traumatic Injury
I65 212 Mile Marker South Bound-Motor Vehicle Accident
December 17, 2019
100 Block Taylor Street-Blood Pressure Check
2500 Block 7th Street South-Fire Alarm
800 Block 16th Avenue North-Altered Mental Status
December 18, 2019
3400 Block Pineview Road-Bleeding Non Traumatic
600 Block Thrash Road-General Illness
300 Block City Street-Traumatic Injury
300 Block 7th Street North-Altered Mental Status
3000 Block 7th Street North-General Illness
1700 Block 8th Street North-Blood Pressure Check
900 Block 3rd Avenue South-Public Assist
300 Block Thrash Road-Structure Fire
December 19, 2019
2200 Block 7th Street South-Difficulty Breathing
1000 Block 2nd Avenue South-Public Assist
Lake Mitchell Road and I65-Altered Mental Status
1800 Block 7th Street South-Diabetic Emergency
800 Block 7th Street North-Fire Alarm
900 Block 16th Avenue North-Public Assist
900 Block Windham Avenue-Altered Mental Status
December 20, 2019
800 Block Logan Road-Seizure
1400 Block Taylor Avenue-Altered Mental Status
1800 Block 7th Street North-Fall
100 Block Elwyn Avenue-General Illness
700 Block 16th Avenue North-Medical Alarm
900 Block 16th Avenue North-Public Assist
2300 Block 4th Avenue North-Seizure
December 21, 2019
300 Block City Street-General Illness
2600 Block Lay Dam Road-Motor Vehicle Accident
200 Block Town Mart-General Illness
1000 Block 4th Avenue South-Unresponsive
1600 Block Samaria Road-Seizure
I65 206 Mile Marker North Bound-Motor Vehicle Accident
600 Block 2nd Avenue North-Seizure
900 Block Frances Circle-Abdominal Pain
900 Block 16th Avenue North-Fall
1200 Block Caroline Street-Difficulty Breathing
December 22, 2019
900 Block Studdard Drive-Difficulty Breathing
2000 Block 2nd Avenue North-Syncope
I65 212 Mile Marker South Bound-Motor Vehicle Accident
100 Block Shennandoah Drive-Fall
100 Block Morris Avenue-Chest Pain
800 Block Caver Drive-Fire Alarm
2300 Block 4th Avenue North-Public Assist
December 23, 2019
100 Block 15th Street North-Altered Mental Status
300 Block Airport Road-Altered Mental Status
300 Block City Street-Altered Mental Status
400 Block 1st Avenue-Fire Alarm
December 24, 2019
2500 Block Yellowleaf Road-Fall
2600 Block Lay Dam Road-Smoke Investigation
300 Block Airport Road-Public Assist
100 Block Elwyn Avenue-Difficulty Breathing
2500 Block Yellowleaf Road-Altered Mental Status
200 Block Ruth Street-Assault
December 25, 2019
500 Block Dunlap Drive-Abdominal Pain
400 Block 1st Avenue-Fire Alarm
100 Block Shennandoah Drive-Fall
100 Block Augusta Street-Altered Mental Status
1100 Block Duren Road-Seizure
December 26, 2019
I65 205 Mile Marker North Bound-Motor Vehicle Accident
100 Block Johnston Street-General Illness
2000 Block Lay Dam Road-Fire Alarm
2800 Block Yellowleaf Road-Unresponsive
2100 Block 7th Street South-Motor Vehicle Accident
December 27, 2019
800 Block 14th Avenue North-Diabetic Emergency
1200 Block Caroline Street-Unresponsive
100 Block Crestview Drive-Public Assist
1400 Block 7th Street South-Fall
I65 208 Mile Marker North Bound-Unresponsive
2000 Block 4th Avenue North-Blood Pressure Check
700 Block 8th Street North-Seizure
1300 Block 2nd Avenue North-Motor Vehicle Accident
I65 208 Mile Marker South Bound-Motor Vehicle Accident
3900 Block County Road 85-False Alarm
1000 Block Lay Dam Road-Motor Vehicle Accident
December 28, 2019
100 Block Johnston Street-General Illness
200 Block 1st Street North-Unresponsive
2300 Block 7th Street South-Assist Police
1800 Block 2nd Avenue North-Public Assist
December 29, 2019
800 Block Bradberry Lane-Fall
200 Block 7th Street South-Altered Mental Status
700 Block Ellison Avenue-Syncope
3000 Block 7th Street North-Child Birth
1000 Block 4th Avenue North-Chest Pain
700 Block Trilliam Lane-Altered Mental Status
200 Block Willis Circle-Blood Pressure Check
December 30, 2019
20 Block Park Drive South-Public Assist
1100 Block Duren Road-Fall
2000 Block Lay Dam Road-Helicopter Landing Zone
700 Block 8th Street North-Public Assist
1300 Block 4th Avenue South-Unresponsive
4000 Block Gowan Road-General Illness
200 Block Willis Circle-Public Assist
December 31, 2019
300 Block Kendal Estates Place-Difficulty Breathing
700 Block 8th Street North-Chest Pain
10 Block Dogwood Drive-General Illness
700 Block 8th Street North-Blood Pressure Check
60 Block County Road 951-Bleeding Non Traumatic
January 1, 2020
100 Block Lilly Street-Altered Mental Status
1000 Block Lay Dam Road-Difficulty Breathing
January 2, 2020
1100 Block Duren Road-General Illness
700 Block 8th Street North-Altered Mental Status
20 Block 2nd Avenue South-Abdominal Pain
1000 Block Jasper Dennis Road-Assault
900 Block Lake Mitchell Road-Overdose
January 3, 2020
700 Block 8th Street North-Assist Police
200 Block Randall Circle-Public Assist
1400 Block 7th Street South-Diabetic Emergency
100 Block Johnston Street-Fall
2500 Block Yellowleaf Road-Syncope
100 Block Harold Drive-Altered Mental Status
2500 Block 7th Street South-Chest Pain
100 Block Thompson Avenue-Medical Alarm
2000 Block Lay Dam Road-Difficulty Breathing
January 4, 2020
4000 Block Gowan Road-Fall
1200 Block Caroline Street-Cardiac Arrest
2800 Block 7th Street North-General Illness
800 Block Scott Drive-Public Assist
I65 208 Mile Marker South Bound-Motor Vehicle Accident
Lomax Drive-Motor Vehicle Accident
January 5, 2020
2100 Block 7th Street North-Fall
200 Block Thompson Avenue-Diabetic Emergency
20 Block 2nd Avenue South-Abdominal Pain
1700 Block 8th Street North-General Illness
January 6, 2020
2000 Block Lay Dam Road-General Illness
300 Block Airport Road-Unresponsive
200 Block 8th Street North-Altered Mental Status
100 Block Harold Drive-Difficulty Breathing
600 Block Cobblestone Circle-Abdominal Pain
300 Block City Street-Overdose
I65 211 Mile Marker North Bound-Motor Vehicle Accident
January 7, 2020
5800 Block County Road 41-Natural Gas Leak
1400 Block 7th Street South-Altered Mental Status
100 Block Arthur Drive-Abdominal Pain
Temple Road and Thrash Road-Motor Vehicle Accident