Welcome To Chilton County News in Clanton, Alabama, located in the center of the State of Alabama in the Heart Of Dixie.
This web site contains local Peach Country information, news and happenings about the people of
Clanton, Jemison, Thorsby, Maplesville, Isabella, Verbena and Cooper in Chilton County, Alabama.
"Chilton County's Best-Read Weekly Community Newspaper"
RECENT NEWS FROM AROUND CHILTON COUNTY!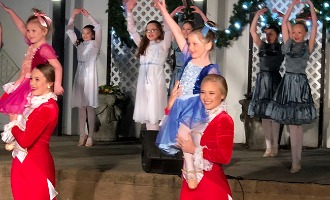 A respectable number of people attended the tree lighting ceremony at Clanton's Corner Park Thursday night, December 5.
Santa had the lights come on at 6:00 p.m. and a program of song and dance was enjoyed by all who attended
Dancers performed during the hour-long tree lighting ceremony.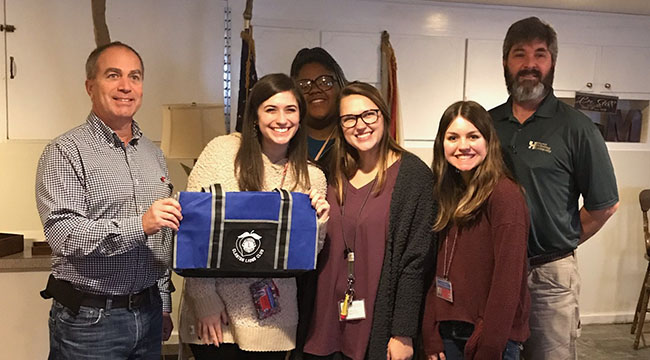 Lions Donate Travel Bags
The Clanton Lions Club made a donation of 100 travel bags to Clanton's Department of Human Resources on Friday, December 6. Left to right: Club President Chris Speaks presented the bags to Sarah Kate Newton, LaToya Kine, Samantha Wilson and Tessa Buttram. At right is Kenyon Easterling of the Lions Club who ordered the bags for the Club.
The bags were embossed with the Lions Club logo and will be used by foster children.
Christmas Eve Service At Clanton First Methodist
There will be a Christmas Eve Service at Clanton First United Methodist Church on Tuesday, December 24. The traditional service will be held at 4:00 p.m. in the church sanctuary.
A contemporary service will be held at 5:30 p.m. in the activity center.
Everyone is invited to attend.
Your Help Is Needed

The Chilton County Department of Human Resources is currently preparing for Christmas wishes for foster children. To help, you may call 205-280-2000. You may drop off donations or gift cards at the DHR office in Clanton, located on Airport Road next to the National Guard Armory.
Items needed include gift cards to popular stores for teens, financial donations or sponsorship of a child.
Disabled Veterans Will Meet December 14
The DISABLED AMERICAN VETERANS, Chilton Chapter 33, will meet at 11:00 a.m. and the DISABLED AMERICAN VETERANS, Auxiliary Unit 33, will meet at noon on the second Saturday of the month, December 14.
The meetings will be held at the Senior Connection Facility at the Park Plaza Shopping Center in Clanton.
Any interested veteran and family members are invited to attend. Many veterans believe they have been out too long to get help. The recognition of their service has no expiration date.
The veteran in your family does not have to be disabled for you to participate. If you are looking to support the veteran in your community and help veterans in need, the DAV Chapter and DAV Auxiliary Unit are the places for you. There will be a Pot Luck lunch, bring your favorite dish, dessert and tea. Fellowship will follow the meetings.
For more information contact Don Frazier at 205-755-7575.
Special Christmas Eve Music Program On Local Radio
There will be a special Christmas Eve music program on WKLF (1000 AM 95.5 FM and Worldwide at WKLF Radio.com.) from 8:00 p.m. to midnight.
There will be Christmas music, a reading of "Twas The Night Before Christmas" by Al Headley, a reading of the Christmas story from the Gospel of Luke by Bro. Tony Hughes, special music from West End Baptist Church Choir, Christmas greetings from Gospel Jubilee listeners, and tracking of Santa Claus for the kids.
This special program is provided by the Shannon family in memory of Bill Shannon.
Jemison Welcomes Santa
The Jemison Christmas Parade will be Saturday, December 7, beginning at 11:00 a.m. Line-up begins at 9:00 a.m. with float judging at 10:30 a.m.
Call 205-688-6331 or email cenglish@jemisonalabama.org for more information about the Jemison parade.
Military Retirees Meet December 11
CENTRAL ALABAMA MILITARY retirees will meet on the second Wednesday of the month, December 11 at 11:00 a.m. The meeting will be held at the Kountry Kitchen on County Road 28 in Clanton.
Any interested military retirees, spouses or family members are invited to attend. For more information contact Bonnie Frazier at 205-755-7575.
Mt. Nebo Christmas Cantata
Mt. Nebo Methodist Church Choir will perform the Christmas Cantata "His Name Is Jesus" on Sunday, December 15, at 5:00 p.m.
Food and fellowship will follow the service. Everyone is invited to attend.
Advent Luncheons Each Wednesday
Lime Springs United Methodist Church will hold Wednesday Advent Luncheons. On Wednesday, December 11, the guest singer will be Joe Raspberry with Bro. Jason Green presenting the devotional. On Wednesday, December 18, the guest singer will be Hal Ellison with Bro. Tony Hughes presenting the devotional.
You are invited to worship, enjoy lunch and fellowship December 4, 11 and 18 from noon until 1:00 p.m. Directions to the church are: Travel on Highway 145 and turn onto County Road 55. Head toward Lay Lake. Go approximately 2.5 miles and turn left onto County Road 61. Go one mile and turn right onto County Road 184.
The church is on the right.
"Celebrate The Child"
"Celebrate The Child" will be presented at West End Baptist Church on Tuesday, December 10, from 7:00 until 8:30 p.m. Music will be provided by Holy Destiny, West End Choir, After Grace, and First Assembly of God Praise Band.

Tickets are $10.00 each. Children ten and under will be admitted free. Proceeds will benefit CareNet Chilton. A prelude to the event will be provided from 6:30 until 7:00 p.m. by the West End Handbell Choir.
Call Penny Smith at 205-903-4133 or email carenetboardchilton@gmail.com for more information.
Tickets are available at My Time Christian Book Store, Senior Connection and Sew Charming, all in Clanton.
Worship In Song December 8 At West End Baptist
West End Baptist Church will present "We Still Believe," a worship in song on Sunday, December 8, beginning at 6:00 p.m.
Everyone is invited to attend.
Chilton County High School hosted an Alumni Band performance on Friday, September 27. Former band members marched into the stadium and performed during the pregame show. Former Band Director, Jim Swindle, was in attendance and the Band Practice Tower was named in his honor.
VETERANS DAY PROGRAM IN CLANTON!
Drawing Will Be Held For Antique Dolls
By Becky Tucker, News Reporter
The organization, Friends Of The Chilton/Clanton Public Library, is accepting new members. The Friends work to assist the Board of Trustees and the Library Director and promote increased knowledge of the library functions. membership is $10.00 per year, or $15.00 per person for two years. Membership for couples is $12.00 per year, or $15.00 for two years. Businesses are also encouraged to become Friends of the Library. Membership is $50.00 for one year or $75.00 for two years.
Friends Of The Chilton/Clanton Public Library is offering an exciting fundraiser at this time. Several antique dolls, complete with outfits, are being offered in a drawing to be held December 9. Tickets are $5.00 each or five tickets for $20.00. You do not have to be present to win. Go by the Chilton/Clanton Library, located on First Avenue, to purchase your tickets.
When you become a Friend of the Library, you will have the opportunity to meet new people and become a part of the community. Friends help keep the community connected through the organizing of special events and fundraising for the Library. Donations, in any amount are always accepted to help with Library functions.
Call 205-755-1768 for more information.
November 6, 2019

2300 Block 4th Avenue North-Extremity Injury
4th Avenue North and 11th Street-Assist Police
100 Block Taylor Street-Altered Mental Status
100 Block Coosa Street-Difficulty Breathing
November 7, 2019
300 Block 1st Street North-Unresponsive
200 Block 3d Avenue South-Unresponsive
100 Block 12th Street South-Assist Police
3000 Block 7th Street North-Difficulty Breathing
20 Block 2nd Avenue South-Abdominal Pain
100 Block Enterprise Road-Motor Vehicle Accident
900 Block 7th Street North-Power Line Fire
20 Block 2nd Avenue South-Abdominal Pain
November 8, 2019
2000 Block Lay Dam Road-Public Assist
100 Block Friendship Road-Public Assist
200 Block Hoyt Brownie Road-Smoke Investigation
300 Block Pinedale Road-Fall
300 Block Arby Drive-Chest Pain
600 Block 6th Street South-Unresponsive
100 Block Arthur Drive-Assault
800 Block Scott Drive-Fall
100 Block Thompson Avenue-Blood Pressure Check
3000 Block 7th Street North-Difficulty Breathing
November 9, 2019
4th Avenue North and 9th Street-Assist Ambulance personnel
500 Block Dunlap Drive-General Illness
800 Block Temple Road-Fire Alarm
300 Block City Street-Fall
100 Block Arthur Drive-General Illness
November 10, 2019
700 Block 8th Street North-Altered Mental Status
1100 Block Duren Road-Bleeding Non Traumatic
3000 Block 7th Street North-Allergic Reaction
1600 Block Lay Dam Road-Blood Pressure Check
3000 Block 7th Street North-General Illness
2100 Block 7th Street South-Chest Pain
November 11, 2019
20 Block 2nd Avenue South-Abdominal Pain
1400 Block 7th Street South-Syncope
100 Block Marion Avenue-General Illness
100 Block Colonial Circle-Fall
200 Block 2nd Avenue North-Assist Police
100 Block Colonial Circle-Structure Fire
November 12, 2019
300 Block City Street-Seizure
100 Block Peach Tree Lane-Fall
400 Block Ollie Avenue-Fire Alarm
2500 Block 7th Street South-Assault
100 Block Corbin Street-Public Assist
November 13, 2019
1300 Block 2nd Avenue North-General Illness
800 Block Temple Road-Fire Alarm
100 Block Maplewood Drive-Public Assist
200 Block 1st Avenue-Fire Alarm
500 Block 2nd Avenue North-Fall
800 Block Temple Road-Altered Mental Status
800 Block Ware Avenue-General Illness
100 Block Thompson Avenue-Difficulty Breathing
November 14, 2019
2100 Block 7th Street North-Public Assist
Lay Dam Road and Airport Road-Motor Vehicle Accident
300 Block Friendship Road-Assist Police
November 15, 2019
100 Block Marie Street-General Illness
1000 Block 3rd Avenue South-Blood Pressure Check
7th Street South and Temple Road-Motor Vehicle Accident
2900 Block Pineview Road-Fall
4000 Block Gowan Road-General Illness
1000 Block Cloverleaf Drive-Difficulty Breathing
1000 Block 7th Street South-Motor Vehicle Accident
I65 208 Exit South Bound-Motor Vehicle Accident
300 Block Inverness Drive-Childbirth
November 16, 2019
1400 Block 7th Street South-Unresponsive
700 Block 8th Street North-Motor Vehicle Accident
November 17, 2019
900 Block Rollan Street-Altered Mental Status
900 Block Rollan Street-Overdose
900 Block 8th Street North-Chest Pain
1300 Block 4th Avenue South-Assault
November 18, 2019
100 Block 3rd Avenue South-Difficulty Breathing
400 Block 2nd Avenue North-Seizure
3400 Block Pineview Road-Difficulty Breathing
1700 Block 7th Street South-Assist Police
1400 Block 7th Street South-Public Assist
I65 208 Exit-Grass Fire
3700 Block 7th Street North-Public Assist
400 Block 2nd Street South-Smoke Investigation
200 Block Health Center Drive-Fire Alarm
200 Block Candler Street-Fire Alarm
200 Block 10th Street North-Altered Mental Status
100 Block Elwyn Avenue-Public Assist
November 19, 2019
20 Block Park Drive South-Public Assist
300 Block Arby Drive-Fall
700 Block 8th Street North-Fall
200 Block 7th Street South-Seizure
900 Block 16th Avenue North-Public Assist
200 Block 7th Street South-Vehicle Fire
2000 Block Lay Dam Road-Fire Alarm
700 Block Ellison Avenue-Abdominal Pain
800 Bloc Golf Drive-Public Assist
I65 208 Mile Marker North Bound-Motor Vehicle Accident