Welcome To Chilton County News in Clanton, Alabama, located in the center of the State of Alabama in the Heart Of Dixie.
This web site contains local Peach Country information, news and happenings about the people of
Clanton, Jemison, Thorsby, Maplesville, Isabella, Verbena and Cooper in Chilton County, Alabama.
"Chilton County's Best-Read Weekly Community Newspaper"
RECENT NEWS FROM AROUND CHILTON COUNTY!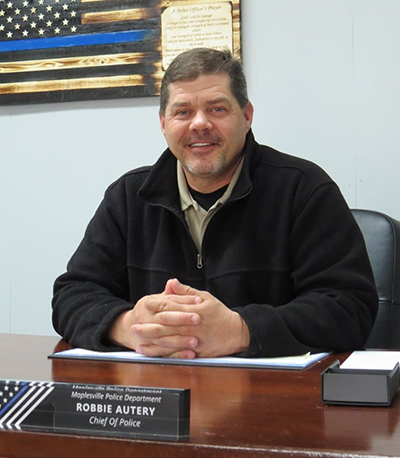 AUTERY NAMED CHIEF AT MAPLESVILLE

Robbie Autery has been named the new Chief of Police for the Town of Maplesville. He has fifteen years of law enforcement experience. "I am excited and determined to apply my knowledge and experiences to the Town of Maplesville," he said. "I am a proud father of two beautiful daughters; now young women." He was raised in Selma, but with family living through Chilton County, it feels like his second home.
"I'm a hardworking individual who is motivated by challenges," Autery said. "As Chief of Police, it's my challenge to make the Town of Maplesville a safe and peaceful town for all families. The world we are living in now is constantly changing and I feel law enforcement should change also to keep up with today's challenges. There are many programs and technology available today that will help aid in the direction I would like to see the police department head, to better serve and protect the residents of the Town of Maplesville. I will seek all avenues to accomplish this goal."
"I also want to make it known that criminals will not be tolerated in the Town of Maplesville," Autery said. "We intend to pursue criminals to the full extent of the law. Under my watch, the police department will be more involved in the community and schools getting back to community policing. Community policing is a must to build relationships and trust between the community and the police department."
Autery plans on using social media for informative information, safety tips and things going on within the Maplesville community. "I will always have an open-door policy," he said. "If myself or the police department can be of any assistance, please don't hesitate reaching out to us. I am very excited about this new challenge and looking forward to meeting each of you."
UNITED KINGDOM COVID-19
VARIANT IDENTIFIED IN
ALABAMA RESIDENTS
A new and more highly transmissible COVID-19 variant, B.1.1.7, has been identified in three Alabama residents. Two are from Montgomery County and one is from Jefferson County; two are children under 19 and one is an adult. These are the first reported cases in Alabama of the variant which was first detected in the United Kingdom in late 2020. The UAB Laboratory sequenced the specimens and identified them as the SARS-CoV-2 variant B.1.1.7.

This variant is associated with increased person-to-person transmission of COVID-19. ADPH is closely monitoring the emergence of this variant which has been detected in at least 24 other states, including Tennessee, Georgia, Florida, and North Carolina and at least 293 cases in the U.S.
Viruses mutate, and due to surveillance, it was expected that cases would be found in Alabama. At this time, many infectious disease experts and the CDC have indicated that the current vaccine should be effective against the U.K. strain. However, this is still being studied. Currently, the U.K. variant has not definitively been linked to worse outcomes of the disease. As this variant is recent to the United States, it is important to follow the outcome of persons infected with this variant.
ADPH advises people to continue practicing the usual mitigation standards with emphasis on correct and consistent use of a two- to three-layered face mask of washable, breathable fabric such as cotton. Other prevention methods include practicing social distancing, and washing hands with soap and water for at least 20 seconds.
For general information about COVID-19, including locations where testing is available, call the COVID-19 Information Hotline number at 1-800-270-7268. Alabama's toll-free COVID-19 Vaccine Scheduling Hotline number is 1-855-566-5333.
ELLISON FINISHED IN THE TOP EIGHT

Hannah Ellison, Chilton County's Distinguished Young Woman, placed in the Top Eight in the state contest this past weekend. Mary Helen Miller of Lee County was named 2021 Alabama Distinguished Young Woman.
The remainder of the Top Eight included: Ella Beth Kirkland, Montgomery County; Erin Lutomski, Jefferson County; Mary Cam Burg; Coffee County; Hannah Seales, Houston County; Sneha Subramani, Limestone County; and Caroline Skellett, St. Clair County.
AGENCIES RECEIVE GRANTS!
Two agencies in Clanton have been chosen to receive grants from the United Way of Central Alabama. The Chilton County Emergency Assistance Center and the YMCA have been selected to receive $50,000.00 each.
Terry, Collier, director for the Emergency Assistance Center stated that they would not have been able to survive the COVID-19 crisis without receiving the grant. "The money we received made the difference between staying open or closing the doors," Collier said. "The money will continue to help feed people in our community through the food bank. It will also help low income households with emergency dental extractions and prescriptions."
Lori Patterson, director for the YMCA, was appreciative of the grant money. "The funding has allowed us to decrease tuition for our after-school program participants," she said. "This is especially helpful to families who are experiencing hardships due to COVID-19. In addition, the funding will enable us to begin a before-school care program which is planned to begin soon."
The recent merger of Chilton County United Way with the United Way of Central Alabama has been very beneficial according to Yolanda Fox of Clanton. She will be working closely with Chilton County agencies, who in the past benefited from the local United Way. She is serving as a board member of the United Way of Central Alabama.
United Way of Central Alabama serves the counties of Chilton, Jefferson, Shelby, Walker, Blount and St. Clair counties by providing solutions for the most critical needs in the community.
DEDICATION CEREMONIES!
The Chilton County Board of Education is proud to announce dedication ceremonies for the multipurpose buildings at Clanton Middle School and Verbena High School.
The ceremony at Clanton will take place on Sunday, February 7th at the multipurpose building at 3:00 p.m. The dedication ceremony for the multipurpose building at Verbena High School, scheduled for Sunday, February 7th, has been cancelled and will be rescheduled.
All public health guidelines will be followed. The public is invited.
BUSINESS OWNERS MEET THE MAYOR!
Clanton Mayor Jeff Mims and the Chilton County Chamber of Commerce would like to invite all business owners within Clanton City Limits to meet Mayor Mims and exchange ideas for the future of Clanton.
Coffee and refreshments will be provided. The meeting will be held at Clanton City Hall on Thursday, February 4, from 8:30 until 10:00 a.m.
PRE-REGISTER FOR PRE-K ENROLLMENT!
Alabama's Voluntary Pre-K Program is accepting online pre-registration applications for the 2021-2022 school year. For assistance with accessing online applications, contact your local school.
Enrollment is open to all children four years of age on or before September 1, 2021 who are residents of the State of Alabama. There is no registration fee for the program.
Forms are available online at https://alprek.asapconnected.com. You may complete the form and submit proof of residence along with a birth certificate.
Pre-registration dates are now through March 16 at Jemison Elementary School. Acceptance is through random drawing to be held on March 19, at 9:00 a.m. The parent or guardian does not have to be present at the drawing. Notices of acceptance will be emailed beginning April 16.
Visit www.children.alabama.gov and see the pre-registration information under First Class Pre-K for further information.
Information from Justin Gentry, CHILTON WEATHER
Chill Hours and Dynamic Chill Portions as of 1/25/21
Jemison (Union Grove) 731/42.6
Jemison (Petals From The Past) 761.8/44
Thorsby (CREC) 738/38.4
Thorsby (Boozer Farms) 756/38.4
Most peach varieties grown in Chilton County need around 1,000 chill hours by February 15 in order to produce a good crop.
ANNUAL MEETING AT UNION GROVE
The Union Grove Community Cemetery Board will hold its annual meeting on Saturday, February 6. The meeting will begin at 12:00 noon in the gym of Union Grove Baptist Church.
If you have loved ones buried in the Union Grove Community Cemetery, you are asked to attend the meeting. If you are unable to attend and would like to contribute for the maintenance of the cemetery, send you donation to: Union Grove Community Cemetery, 11935 County Road 42, Jemison, AL 35085.
PALMER SWORN IN FOR FOURTH TERM
IN U. S. HOUSE OF REPRESENTATIVES
Congressman Gary Palmer was sworn in for his fourth term representing Alabama's Sixth Congressional District in the United States House of Representatives. Palmer released the following statement after taking the oath of office:
"It was an honor and privilege to stand on the House floor for the fourth time, pledging to support and defend the U.S. Constitution," Palmer said. "I look forward to continuing to serve the people of Alabama's Sixth District in Washington and pursuing sound policies for the good of the country during the 117th Congress. There is much to be done over the next two years and I am eager to get to work."
Congressman Palmer, recently elected for a second time as Chairman of the Republican Policy Committee for the 117th Congress, represents Jefferson, Shelby, Chilton, Coosa, Blount, and Bibb counties.
REPUBLICANS ANNOUNCE
QUALIFYING DATES
The Alabama Republican Party has set qualifying dates for the special election in Alabama Senate District 14. Information on the qualifying process is available on the ALGOP website (www.algop.org).

Qualifying will open on-line at www.algop.org on Monday, January 18, 2021 at 8:30 a.m. CST. It will close on Tuesday, January 26, 2021 at 5:00 p.m. CST, per the proclamation issued by Governor Kay Ivey.
People interested in qualifying should contact ALGOP Executive Director Reed Phillips at 205.212.5900 or rphillips@algop.org. Anyone needing to qualify in-person may do so at Alabama Republican Party headquarters (3505 Lorna Road, Hoover, AL 35216). The office is open weekdays from 8:30 a.m. to 5:00 p.m. CST, excluding federal holidays.
The vacancy in Senate District 14 occurred following the appointment of Cam Ward as director of the Alabama Board of Pardons and Paroles by Governor Ivey.
Senate District 14 includes portions of Shelby, Bibb and Chilton Counties.
The Special Primary Election will be held on Tuesday, March 30, 2021. If a run off election is needed, it will be held on on Tuesday, April 27, 2021. The general election will be held on Tuesday, July 13, 2021.

CLANTON FIRE DEPARTMENT CALLS

January 13, 2021

1100 Block Duren Road-General Illness
100 Block Betty Street-Fall
300 Block Cherokee Drive-Stroke
2200 Block Pinedale Road-Public Assist
400 Block 1st Street South-Chest Pain
200 Block 7th Street North-Wash Down
900 Block Cobblestone Circle-Abdominal Pain
1400 Block 7th Street South-Police Matter
January 14, 2021
900 Block Cobblestone Circle-Syncope
2100 Block 4th Avenue North-Fall
2100 Block 4th Avenue North-Syncope
900 Block Greasy Ridge Road-General Illness
700 Block Lay Dam Road-Diabetic Emergency
100 Block Betty Street-Fall
2300 Block 7th Street South-Public Assist
900 Block 8th Street North-General Illness
100 Block Campbell Road-General Illness
1500 Block Lay Dam Road-General Illness
January 15, 2021
I65 209 Mile Marker North Bound-Motor Vehicle Accident
100 Block Thompson Avenue-Public Assist
200 Block Willis Circle-Diabetic Emergency
January 16, 2021
300 Block City Street-Unresponsive
2100 Block 4th Avenue North-Motor Vehicle Accident
900 Block 3rd Avenue South-Structure Fire
1600 Block 7th Street North-Assault
3000 Block 7th Street North-Chest Pain
January 17, 2021
800 Block Lake Mitchell Road-Diabetic Emergency
1100 Block Duren Road-Fall
1700 Block Kincheon Road-Assault
1600 Block Jackson Avenue-Medical Alarm
1600 Block Jackson Avenue-Overdose
January 18, 2021
2200 Block 7th Street South-Difficulty Breathing
200 Block Cobblestone Circle-Public Assist
900 Block Rollan Street-Traumatic Injury
300 Block Smith Street-Seizure
100 Block Peach Tree Lane-Overdose
500 Block Cobblestone Circle-Public Assist
200 Block Inverness Drive-Difficulty Breathing
2400 Block 4th Avenue North-Smoke Investigation
2300 Block Yellowleaf Road-Public Assist
1100 Block Duren Road-Fall
700 Block 16th Avenue North-Public Assist
200 Block Inverness Drive-Public Assist
January 19, 2021
1500 Block 2nd Avenue North-Chest Pain
I65 210 Mile Marker North Bound-Motor Vehicle Accident
300 Block Medical Center Drive-Fall
1100 Block Duren Road-General Illness
ONLINE COVID-19 INFORMATION
The Alabama Department of Public Health (ADPH) has launched a new COVID-19 Vaccine Distribution Dashboard which will make it easier for the public to navigate vaccine information. The dashboard, which details the number of vaccines shipped to Alabama and dispensed, can be viewed at: https://arcg.is/OrCey
The COVID-19 Vaccine Distribution Dashboard can also be accessed on the newly created COVID-19 Dashboard Hub. This will provide easy access to the Vaccine Distribution, Data and Surveillance, School and Risk Indicator Dashboards through tabs at the top. The COVID-19 Dashboard Hub can be accessed at: https://arcg.is/0brSGj
Both the Pfizer BioNTech and Moderna vaccines have been sent to the state. Allocations of Moderna COVID-19 vaccine have been received and are being distributed to 90 sites in Alabama. Additional allocations of the two-dose vaccines are expected on a weekly basis. As of December 28, 20,354 doses of Pfizer and Moderna COVID-19 vaccine had been administered in the state. ADPH follows the newly revised Advisory Committee on Immunization Practices (ACIP) guidance regarding placing priorities based on risk exposure in providing COVID-19 vaccine. View the Alabama COVID-19 Vaccination Allocation Plan which defines populations and the order in which they will receive vaccine in four phases at www.alabamapublichealth.gov/covid19/assets/adph-covid19-vaccination-allocation-plan.pdf
More than 300,000 Alabamians fall into the Phase 1a population. Immunizations are being administered to eligible persons at very high risk of exposure to the virus.
DISC TOSS AT CLANTON CITY PARK
By Becky Tucker, News Reporter
The first Frozen Disc Golf Championship Tournament was held at Clanton City Park on Saturday, January 23, beginning at 9:00 a.m. A total of 81 players came from different parts Alabama and as far away as Chicago, Tennessee, Georgia and Mississippi. Plans are to make this an annual event in Clanton.
Blake Muir, a graduate of Chilton County High School and a former resident of Clanton, served as Tournament Director. Even though he now resides in Shelby County, he considers the course at Clanton City Park his home course.
The rules for disc golf are very similar to regular golf with different levels of difficulty along the 18 basket course. Players use a Frisbee-type disc to throw and ring baskets. "Instead of hitting a golf ball they are throwing a disc," Muir said. "There are different weights of disc and some players carry 18 or 19 in their cart or backpack."
"There are four different levels of players in the tournament," he said. "Everyone is divided into groups of four to five players. During the tournament on Saturday, players entered their scores for each basket on an app and Muir monitored their progress.
Winners and runner-ups were presented plaques according to their level of play. The men's advanced winner was Robbie Crawford with Zach Baublitz the runner-up. Brett Prill with Keith Jones the runner-up. The men's recreational winner was Justin Randall with D. J. Hines as the runner-up. The men's novice winner was Ric Pevey with Josh Young as the runner-up. Bill Waycaster was the winner in the men's 55 plus category with Alan Hester as the runner-up. Bethel Barrett was the winner in the men's 60 plus category with Roy Nix as the runner-up.
The women's intermediate winner was Christy Acton with Mabrey-Layne Pevey Marsalis as the runner-up.
The women's novice winner was Sydney Taylor Roberson with Carolyn Stovall Pevey as the runner-up. The women's junior winner was Isabella Jones with Autumn Jones as the runner-up.
Chilton County Peach
Festival Began In 1947
Read some of the history here: