Welcome To Chilton County News in Clanton, Alabama, located in the center of the State of Alabama in the Heart Of Dixie.
This web site contains local Peach Country information, news and happenings about the people of
Clanton, Jemison, Thorsby, Maplesville, Isabella, Verbena and Cooper in Chilton County, Alabama.
"Chilton County's Best-Read Weekly Community Newspaper"
RECENT NEWS FROM AROUND CHILTON COUNTY!
FOOTBALL TONIGHT!
Friday night, November 22
Third Round Of State Playoffs

Isabella at Lanett
Lanett defeated Elba 44 to 6 Friday night.
FOOTBALL SCORES!
Friday night, November 15
Isabella 29 - - Millry 27 (In Overtime)
Sweet Water 34 - - Maplesville 21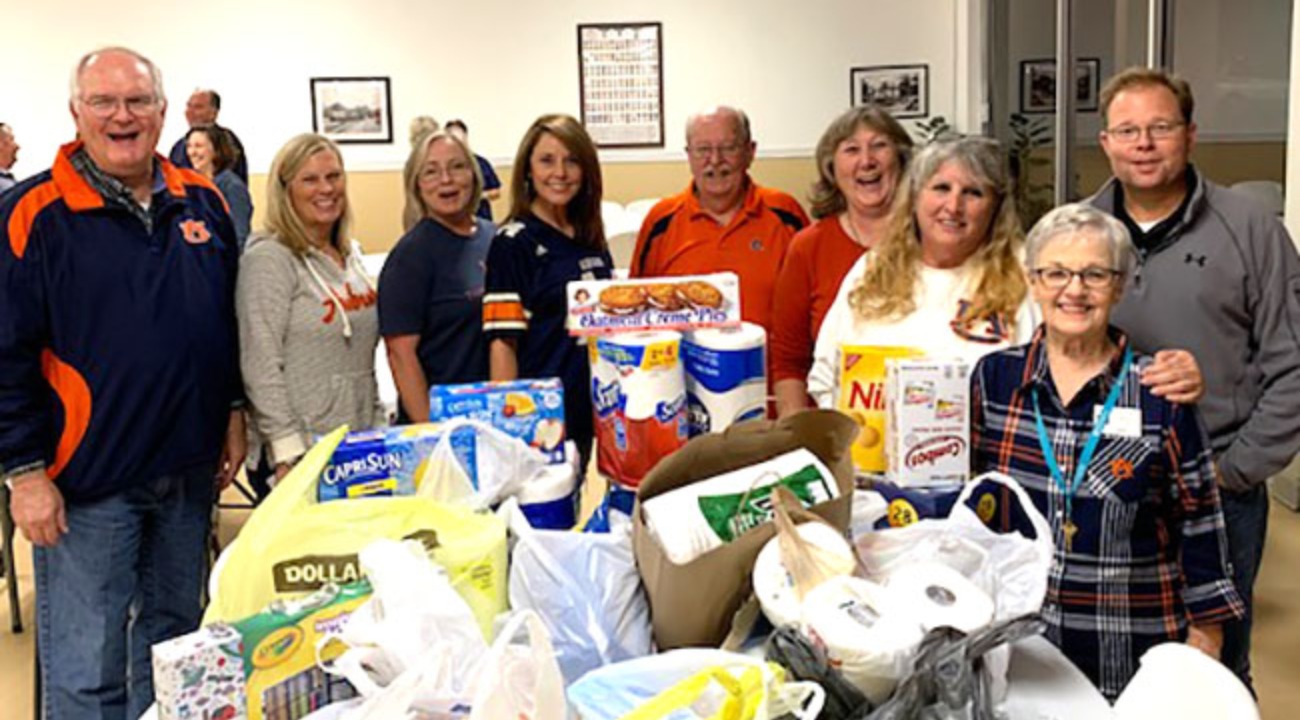 Beat Bama Pep Rally
The Chilton Auburn Club Beat Bama Pep Rally was held Thursday evening, November 21 at Senior Connection in Clanton. The members brought supplies for Butterfly Bridges. They enjoyed soup, chilly, and lots of fun!
Shown, left to right, Board members: Ronnie Porter, Toni Miller, Debbie Orange, Tammy Price, Bill Chism, Barbara Bates, Nyra Luster, Mary Clyde Huff, and Chris Smith.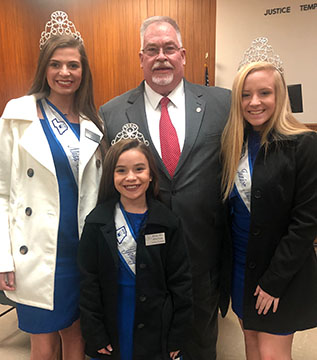 Smith Takes Oath Of Office Wednesday

A swearing-in ceremony was held at the Chilton County Courthouse on Wednesday evening, November 13 for Van Smith, newly-elected Representative of District 42. Part of Chilton County will be in Smith's District.
The Miss Chilton County Queens were present and are pictured with Representative Smith, left to right: Allison Giles, Cambree Crumpton, and Mia Deason.
Operation Blue Line At Goose Pond
Operation Blue Line will host a free, family-friendly event on Saturday, November 23, beginning at 11:00 a.m. at Goose Pond Park in Clanton. You are welcome to attend and show your appreciation for the local law enforcement. Mexican cuisine will be served at noon for lunch.
Bake Sale Is November 27
Senior Connection will hold its annual Thanksgiving Bake Sale on Wednesday, November 27, from 8:00 a.m. until 2:00 p.m. The facility is located in the Park Plaza Shopping Center in Clanton.
Stop by today and place your pre-order for your favorite cake or pie.
Atcheson Performs At Carnegie Hall
It was a gorgeous day in New York City when Clanton native Randall Atcheson performed his 14th Carnegie Hall piano concert on Wednesday, November 6.
Fans and admirers from several states came to this world-renowned concert hall to see and hear Randall perform four classical selections that led to a varied repertoire of sacred and gospel from Protestant hymnology and the Bible-Belt gospel tradition. He began by accompanying the audience to the Star Spangled Banner and ended with his Patriotic Medley that recognized all five branches of the military service.
See the print edition on November 21 for the complete story.

Peach Queens Attend Peanut Festival Parade
The Chilton County Peach Queens attended the Peanut Festival Parade in Dothan on Saturday morning, November 9. The Queens are: Ryleigh Green, Little Miss; Lexi Deavers, Young Miss; Sophie Porter, Junior Miss; and Mary Beth Porter, Miss. The Queens also attend the National Peanut Festival Fair on Friday night, November 8.
Jemison Welcomes Santa
The Jemison Christmas Parade will be Saturday, December 7, beginning at 11:00 a.m. Line-up begins at 9:00 a.m. with float judging at 10:30 a.m.
Call 205-688-6331 or email cenglish@jemisonalabama.org for more information about the Jemison parade.
Thanksgiving Lunch At Church
The Clanton First United Methodist Church will be hosting a free Thanksgiving Lunch on Thursday, November 28, from 11:00 a.m. to 1:00 p.m. in the Helen Parrish Activity Center. You are welcome to eat in the Activity Center or get a take-out plate. Call 205-755-090 for more information.
Christmas Event In Maplesville

There will be a Old Fashion Christmas event held in Maplesville on Sunday, December 1, from 2:30 until 5:30 p.m. There will be carriage rides, music, photo props, a Nativity display, crafts, food, games and train rides. The event is free and open to the public.
Mt. Nebo Christmas Bazaar
Mt. Nebo Methodist Church will host its annual Christmas Bazaar on Saturday, November 23, from 7:00 a.m. until 2:00 p.m. They will be serving both breakfast and lunch. Handcrafted items, yard sale items and baked goods will all be available for purchase.
Thorsby Christmas Parade December 7
The Thorsby Christmas Parade will be held on Saturday, December 7, beginning at 9:00 a.m. The parade will follow the same route as the Swedish Parade through downtown Thorsby.
Food Drive For Chilton County
The 34th Annual Food Drive to benefit the Chilton County Emergency Assistance Center began on October 15 and continues through November 30. Donations received will help families who have experienced an emergency and need help putting a meal on their table.
Between 8:30 a.m. and 2:30 p.m., Monday through Friday, Chilton Countians can help by donating non-perishable food items, make a monetary donation, or organize a food drive at your workplace, school or church. Donations may be dropped off at the Chilton County Emergency Assistance Center, 502 Enterprise Road, Clanton.
Monetary donations can be sent to CCEAC, P.O. Box 1305, Clanton, AL 35046. Contact Donny Finlayson at 205-755-7062 with questions or to arrange a pick-up at your location.
Shoebox Gifts For Children
Sites in the Clanton area will be among 5,000 drop-off locations across the nation collecting shoebox gifts for children overseas during Operation Christmas Child's National Collection Week which is November 18 through November 25. Area church who are participating include Providence Baptist Church in North Chilton County, Clanton West End Baptist Church, The Church At Bethel in Thorsby, Verbena Baptist Church and Indian Grave Baptist Church.
Area families, churches and groups will transforming empty shoeboxes into fun gifts filled with toys, school supplies and hygiene items.
The Samaritan's Purse project partners with local churches across the globe to deliver these tangible expressions of God's love to children affected by war, disease, disaster, poverty and famine. For many of these children, it will be the first gift they have ever received. This year, Clanton-area residents hope to collect more than 14,000 gifts to contribute to the 2019 global goal of reaching 11 million children.
Tree Lighting In Clanton December 5
The City of Clanton will host a Christmas Tree Lighting Ceremony on Thursday, December 5, at 6:00 p.m. at Corner Park in downtown Clanton. Santa will arrive at 5:00 p.m. and there will be live entertainment. Everyone is invited.
Christmas Home Tour December 8
The 2019 Christmas Home Tour will be Sunday, December 8, from 1:00 until 4:00 p.m. Homes on the tour will be in the Verbena area. Tickets may be purchased at the Chilton County Extension Office or from any Master Gardener. They are $15.00 in advance or $20.00 the day of the event. For more information, call 205-915-0829.
Free Thanksgiving Lunch At Church
The Clanton First United Methodist Church will be hosting a free Thanksgiving Lunch on Thursday, November 28, from 11:00 a.m. to 1:00 p.m. in the Helen Parrish Activity Center. You are welcome to eat in the Activity Center or get a take-out plate. Call 205-755-090 for more information.
Holiday Sale Benefits United Way
The Chilton County Emergency Assistance Center will hold a Holiday Sale for United Way on Friday, December 6, from 8:30 a.m. until 2:30 p.m. in the Thrift Store. All proceeds go to the local United Way.
Your support at this event will help raise money that benefits many organizations. Call 205-755-9467 for more information.
Chilton County High School hosted an Alumni Band performance on Friday, September 27. Former band members marched into the stadium and performed during the pregame show. Former Band Director, Jim Swindle, was in attendance and the Band Practice Tower was named in his honor.
VETERANS DAY PROGRAM IN CLANTON!
Council Members Approve Low Bid
By Becky Tucker, News Reporter
The Clanton City Council met on Monday, October 28. Mayor Billy Joe Driver opened two bids for flooring for the building being renovated in the Park Plaza Shopping Center. The low bid was $17,900.00 and council members approved the bid.

The next meeting date for the City Council would be Monday, November 11, which is the Veterans Day holiday. Council members agreed to move the date to Thursday, November 7 at 5:00 p.m.
Council members approved Mayor Driver to sign a letter for a company that will be looking for property near Exit 212 on Highway 145, around the proposed Farm Center. The city has hired a firm to handle talking to residents in the area about the purchase of property.
Council members approved letting a police officer, who is leaving his full-time position, to continue to work as a part-time officer. A work session date was set for November 18 at 4:00 p.m. to discuss pay for police officers.
October 30, 2019

I65 211 Mile Marker South Bound-Motor Vehicle Accident
Blacksnake Trailer Park-Fall
100 Shennandoah Drive-Syncope
October 31, 2019
2500 Block 7th Street South-Chest Pain
1100 Block Duren Road-Extremity Injury
2500 Block 7th Street South-Vehicle Fire
20 Block 2nd Avenue South-Abdominal Pain
500 Block Lay Dam Road-Chest Pain
900 Block County Road 461-Fire Alarm
800 Block 17th Avenue North-Smoke Investigation
November 1, 2019
800 Block 17th Avenue North-Fire Alarm
I65 208 Exit-False Call
20 Block 2nd Avenue South-Abdominal Pain
3000 Block 7th Street North-Motor Vehicle Accident
600 Block 2nd Avenue North-Fall
3000 Block 7th Street North-General Illness
I65 207 Mile Marker North Bound-Motor Vehicle Accident
100 Block Colonial Circle-Difficulty Breathing
800 Block Golf Drive-Public Assist
November 2, 2019
I65 210 Mile Marker North Bound-Vehicle Fire
800 Block 4th Avenue North-General Illness
Price Drive-Helicopter Landing Zone
November 3, 2019
1600 Block Mt. Pleasant Road-Head Injury
1600 Block 7th Street South-Assault
4th Avenue North and 8th Street-General Illness
November 4, 2019
20 Block 2nd Avenue South-Abdominal Pain
600 Block 2nd Avenue North-Smoke Investigation
20 Block 2nd Avenue South-Extremity Injury
3000 Block 7th Street North-General Illness
100 Block Medical Center Drive-Altered Mental Status
I65 206 Mile Marker-Motor Vehicle Accident
300 Block Medical Center Drive-Fall
4000 Block 7th Street North-Motor Vehicle Accident
November 5, 2019
700 Block 8th Street North-Assist Police
300 Block Love Drive-Altered Mental Status
2800 Block 7th Street North-General Illness
800 Block Golf Drive-Public Assist
100 Block Bama Lane-Chest Pain
5200 Block County Road 41-Chest Pain
2nd Avenue North and 15th Street-Altered Mental Status
2800 Block 7th Street North-General Illness