Welcome To Chilton County News in Clanton, Alabama, located in the center of the State of Alabama in the Heart Of Dixie.
This web site contains local Peach Country information, news and happenings about the people of
Clanton, Jemison, Thorsby, Maplesville, Isabella, Verbena and Cooper in Chilton County, Alabama.
"Chilton County's Best-Read Weekly Community Newspaper"
RECENT NEWS FROM AROUND CHILTON COUNTY!
The 2022 Miss Peach and her court are, left to right: Gracie Brewer, Third Alternate; Dariana Salinas, First Alternate; Sophie Porter, Miss Peach and Miss Congeniality; Bella Gilliland, Second Alternate; and Kerragan Traywick, Fourth Alternate.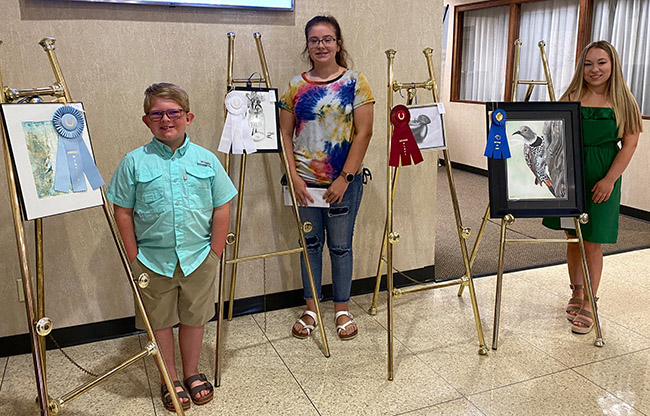 Peach Festival Art Show Youth winners, left to right, Tripp Tinker, Honorable Mention; Sariah Dailey, Third and Second Place; and Charlotte Blencowe, First Place.
Peach Festival Art Show Adult winners, left, Tommy Crumpton, Honorable Mention and Second Place; and Gloria R. Ronayne, Third Place. Nikita Dees, First Place, not pictured.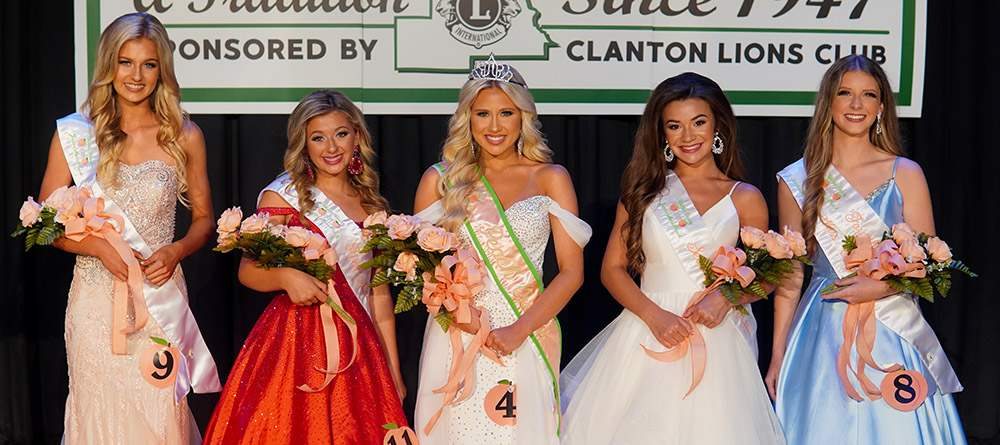 The new Junior Miss Peach and her court are, left to right: Kayleigh Payton, Third Alternate; Leelah Penley, First Alternate; Lexi Deavers, Queen and Casual Wear Winner; Cambree Crumpton, Second Alternate; and Sarah King, Fourth Alternate and Miss Congeniality. PHOTO BY JILLIAN H. GREEN PHOTOGRAPHY
The 2022 Young Miss Peach and her court are, left to right: Emery Blackmon, Third Alternate; Jaylee Smith, First Alternate; Lydia Payton, Queen and Casual Wear Winner; Ryleigh Green, Second Alternate; and Ellie Harrison, Fourth Alternate. PHOTO BY JILLIAN H. GREEN PHOTOGRAPHY


The 2022 Little Miss Peach and her court are, left to right: Aubrie Roberts, Third Alternate; Adleigh Ash, First Alternate and Casual Wear Winner; Lilly Maddox, Little Miss Peach; Madi Burnett, Second Alternate; Harper Hubbard, Fourth Alternate; and Kilee Gray, Coloring Contest Winner. PHOTO BY JILLIAN H. GREEN PHOTOGRAPHY
Peach Festival's
75th Anniversary
Celebrated This Year
By Becky Tucker, News Reporter
The 75th Anniversary of the Chilton County Peach Festival will be celebrated Saturday, June 18 through Saturday, June 25. The first event will be the Little Miss Peach Pageant in McKee Auditorium at Chilton County High school on Saturday, beginning at 6:30 p.m.
The Peach Pageants will continue Monday, June 20, with the Young Miss Pageant; Tuesday, June 21, with the Junior Miss Pageant; and Thursday, June 23, with the Miss Peach Pageant.
A highlight of the Miss Peach Pageant will be the recognition of former Miss Peach Queens. Prior to the Pageant, former queens will be honored with a reception at the Orchard House at Peach Park from 5:00 until 6:00 p.m.
The former queens will ride in the Peach Parade on Saturday, June 25, which begins at 9:30 a.m. and will be introduced at the Peach Auction following the parade as part of the Peach Jam which begins at 11:00 a.m. There will also be a meet-and-greet, in the Lions Club Tent, for the former queens following the Parade and Auction at the Peach Jam.
The Peach Jam is free to the public and offers food and entertainment, along with vendors. A fireworks show will end the event at 9:00 p.m.
City And County
Get Farm Center
Property Back
Land, located on Highway 145 in Clanton, that was deeded to the Alabama Agriculture and Exhibition Center Cooperative District Board has now been deeded back to Chilton County and the City of Clanton. The Board, consisting of Commissioner Matt Mims, Chairman; Bobby Cook and David Heflin, voted to return the property in a meeting on June 1.
The property was deeded to the Cooperative District in March of 2021 as the site for the proposed Alabama Farm Center. A requirement in the deed stated that the Farm Center had to break ground within twelve months and ALFA failed to do so.
Negotiations have been ongoing for months between Commission Chairman Jimmie Hardee, Clanton Mayor Jeff Mims and representatives from ALFA. However, nothing came from the meetings as to moving construction for the Farm Center forward.
Peach Auction
Will Be Held
Saturday, June 25
The Chilton County Peach Auction is moving to the Clanton City Park on Saturday, June 25, immediately following the Peach Parade. The projected time is 10:30 a.m. and it will be on the main stage as part of the Peach Jam located in an area of Ollie Park.
Auction Chairman, Glenn McGriff, wants all peach growers in the county to participate in this 75th Anniversary Celebration Auction. McGriff visits area farms and leaves them half bushel baskets to fill with peaches for the auction.
Growers are to bring one or two baskets of peaches to the auction early that morning. When the peaches are turned in, each basket is assigned a number and that is all that the judges see. A list is kept by the Lions Club to know which number belongs to the grower.
The judges are selected by the County Extension Service and they have the responsibility for choosing the top five baskets of peaches. The winners are then announced and peaches are auctioned off to the highest bidders at the auction. The Clanton Lions Club pays growers $50.00 for each basket they enter. The Top Five baskets will be awarded a total of $2,500.00 in prize money.
It is a fun-filled event and everyone is encouraged to attend. You can even participate if you wish to purchase one of the prize basket of peaches. Anyone interested in entering or bidding on peaches can contact McGriff at 205-312-1039 or Chris Speaks at 205-389-4205.
Peach
Festival
Cook-Off
The Peach Festival Cook-Off will return this year. It hasn't been held for several years and this year Senior Connection will be the sponsor of the event. It will be held Wednesday, June 22, from 5:00 until 7:00 p.m. at the Senior Connection facility located in the Park Plaza Shopping Center in Clanton.
Pre-registration is required and entry forms are available at Senior Connection. The deadline for turning in your entry form and recipe is no later than 2:00 p.m. on Friday, June 17. Entry fee is $25.00 and there are two age divisions. The adult division is for ages 19 and above and the youth division is ages 9-18.
There are two categories in each division, sweet and savory. All dishes must be homemade, not purchased or commercial. The dish entered in the contest must contain peaches. They may be fresh, frozen or preserved. Only one entry per person and the recipe does not have to be original.
Examples of sweet dishes are pies, cakes, ice cream, cookies, jellies, jams, etc. Examples of savory dishes are salsa, meat dishes, peach pickles, etc. Winners will receive a cash prize and a Peach Festival T-shirt. Winner must be present to win.
Everyone is invited to attend, even if you are not entering a dish. A booklet listing all entry names and the recipes will be available to those in attendance. After judging, samples will be available for attendees.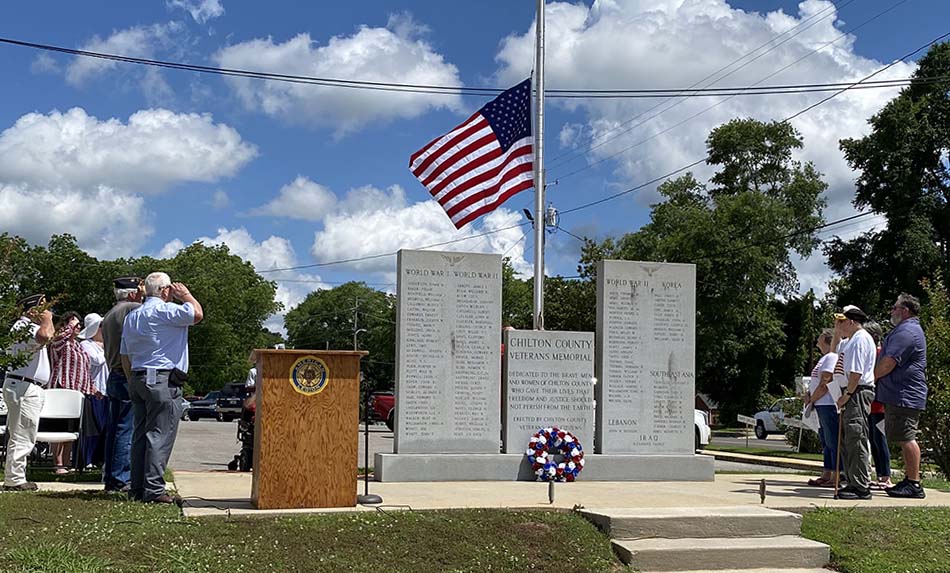 The annual Memorial Day program was held Monday, May 30, at the Chilton County Courthouse. The speaker was Lance Corporal Nick Burnett, United States Marine Corps. The family of the late Olen Berry Williams, United States Army, participated in the laying of the wreath. The family members included, at right, J.B. Willams, Dewayne Williams, Geneva Williams Wilkins, Judy Williams Mims, and Richard Williams, at the playing of Taps.
Peach Festival
Art Show
Applications for the annual Roy Wood Peach Festival Art Show are now available at River Bank & Trust in downtown Clanton. The competition gives all interested Chilton County artists the opportunity to let their works be seen by their friends and people interested in art.
To enter, the subject matter may be pertaining to the peach industry or a subject of your choosing. The painting must have been competed within the last two years and not have been entered in the show previously. It must be an original and not a copy.
Art will be received at the bank on Wednesday, June 22 from 12:00 noon until 2:00 p.m. All instructions are available on the entry form. Each artist may enter two works. Prizes will be awarded in both the Junior Division and Senior Division.
The exhibit will display in the bank lobby from Thursday, June 23 through Wednesday, June 29 for everyone to go by and view.
Workers installed the City of Clanton's new building, containing restrooms, at Ollie Park last week. The self-contained building was set in place by a huge crane. Mayor Jeff Mims and the city council approved the installation of the building several months ago.
Glenn McGriff, Chilton County Circuit Clerk, is pictured with a new mural painted on the corner of C & C Trophy in downtown Clanton. McGriff is a member of the Clanton Lions Club which sponsors the annual Peach Festival. He is also the Chairman of the Peach Auction which will be held at Clanton City Park on Saturday, June 25.
Did someone take a bite out of that peach?
Clanton Fire
Department
Incidents
May 25, 2022

2100 Block 7th Street South-Fall
I65 210 Mile Marker-Motor Vehicle Accident
3300 Block Lay Dam Road-Motor Vehicle Accident
2500 Block 7th Street South-Childbirth
300 Block City Street-Diabetic Emergency
May 26, 2022
1300 Block Woodfin Lane-General Illness
1100 Block 7th Street North-Motor Vehicle Accident
2nd Avenue South and 4th Street-Vehicle Fire
May 27, 2022
100 Block Battle Circle-Fire Alarm
2300 Block 7th Street North-Seizure
300 Block Ollie Avenue-General Illness
400 Block Kendall Estates Place-Fire Alarm
3000 Block 7th Street North-Police Matter
100 Block Enterprise Road-Motor Vehicle Accident
May 28, 2022
400 Block Inverness Drive-Electrical Fire
1500 Block 8th Street North-Public Assist
300 Block Cobblestone Drive-General Illness
1400 Old Samaria Road-Fire Alarm
900 Block Frances Circle-Unresponsive
900 Block Studdard Drive-Public Assist
May 29, 2022
20 Block 2nd Avenue South-Abdominal Pain
1800 Block Lay Dam Road-Overdose
700 Block Tippett Street-Overdose
May 30, 2022
700 Block 8th Street North-Difficulty Breathing
100 Block Marie Street-Fire Alarm
4th Avenue South and Liberty Street-Assault
May 31, 2022
100 Block Andrew Street-General Illness
700 Block Wyatt Road-Abdominal Pain
100 Block Peachtree Lane-Difficulty Breathing
500 Block Cobblestone Circle-Public Assist
2200 Block 7th Street South-Chest Pain
100 Block Thompson Avenue-Public Assist
500 Block Cobblestone Circle-Unresponsive
900 Block 1st Avenue-Seizure